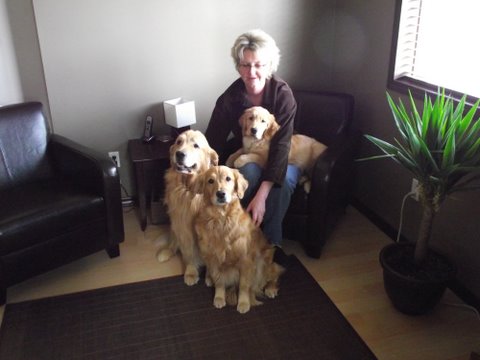 Golden Retrievers are my passion and I have been involved with the breed for the past 22 years, but it has only been in the 15 years that I have been interested in breeding. Personally, I think it takes a long time to realize the true attributes of the Golden Retriever, and how as a breeder I can improve on these. My goal as a breeder is that every generation I produce should be better than the last.
We are serious hobby breeders and make informed breeding decisions based on our experience over the past 22 years.  We research bloodlines, and keep up to date on current health and temperament issues that afflict the golden retriever today.  All our dogs have the recommended clearances which include OFA or OVC hip and elbows, OFA heart and have annual eye exams which are sent to OFA, and we test DNA through Paw Prints Genetics.
I am involved in showing in conformation and dabble a little in obedience.  All the dogs at Osogold are all owner handled by myself. I am also the Regional Director for the Golden Retriever Club of BC, a member in good standings of the CKC, and the Golden Retriever Club of Canada  I hope you enjoy your visit and keep checking back for updates.